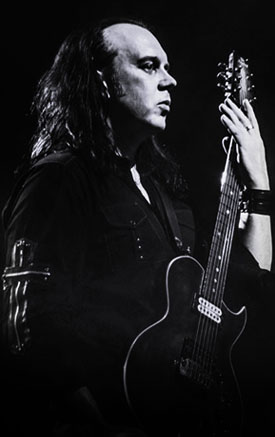 ---
by Henrik Flyman

---
2016 WILL ROCK!

My cold is almost gone, the peaceful xmasy atmosphere is still present, even though it's New Year's Eve and people are shooting fireworks outside like crazy. I'm relaxing in the studio with a nice glass of Chilean red wine as I take a few minutes to sum up the year.

But first let's jump back shortly to 2014. This was a special year for Evil Masquerade since it was our 10th anniversary. We released both a studio album and our first compilation album. I was overwhelmed about the support we got from fans and media. Suddenly I found myself doing hours of radio interviews. Our music was on a huge number of play lists. Several shows even did hour-long features about Evil Masquerade.
I'm pretty sure we could have continued staying in the spotlight for a large part of 2015 as well, but it didn't feel right. It felt like I was just repeating myself telling the same story. Even though I believe 'The Digital Crucifix' is one of our best albums so far, I'm also dead-sure we have much more to offer the world. And since music doesn't write itself it was time to go back to composing. For me personally, 2015 has been the busiest year throughout the history of Evil Masquerade even though most others probably think differently.
Most important 2015 is that I managed to finalize the songs for our 7th album. The bar was set very high this time. And recently having released 'The Digital Crucifix' didn't make it easier. I was aiming to write the album I wish I grew up with. An unpredictable collection of memorable songs within the Evil Masquerade universe of rock and metal. I feel really good about the outcome and hope you will too.
The recordings have already started and I intend for everything to be recorded and mixed for a spring release. Wish us luck. Anyway it goes, we will present several new songs at the Breaking Bands Festival in the UK where we are headlining on (Saturday) May 28.
We also have a few surprises coming up about the new album, plus more shows. 2016 has Evil Masquerade stamped all over it.
Now I raise a glass and wish you a Happy New Year.
On behalf of everyone in the band… CHEERS!
Henrik