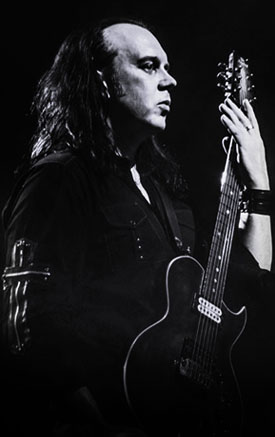 ---
by Henrik Flyman

---
A SMALL UPDATE FROM COLOMBIA

It's in the middle of the night and I'm at a hotel in Colombia where I'm waiting to play the last show of a 6 week world tour with Lacrimosa. I have kept double-busy on this tour also working with the production of the upcoming Evil Masquerade album. Things are falling nicely into place and I really look forward to return to Copenhagen within a few days and be back with full force.
I can't remember when I was this excited about a new album.
I want to take the opportunity to thank all the Evil Masquerade supporters that I have met along the way from Europe, throughout Russia, around Asia and now in Latin America. I never expected to sign so many Evil Masquerade albums and photos – and getting cool homemade fan stuff (t-shirts, paintings, pins, mugs, bottles, accessories, etc). If you continue to spread the word about the band like this – then it's just a matter of time before we can visit even more countries. I have been asked numerous times when that will happen. My answer is always the same; -You decide. Join forces with your friends that also want to Evil Masquerade to come. It's a numbers game. Several promoters are already well-aware of the band.
---
Photo: Thomas Trane