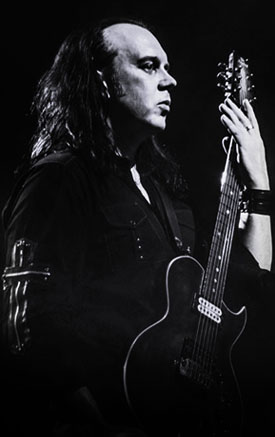 ---
by Henrik Flyman

---
ALL SONGS ARE WRITTEN

Yesterday was an important day of relief as I completed the final track for our 7th studio album. Since then I have probably heard the entire album pre-production from start to end 10-15 times and it feels really good. Now I will take a necessary few days break from the songs before starting with the final production. This means tweaking the arrangements, finding the right soundscape and preparing for the final recordings. We will start recording drums already this month since that will be the foundation for all the other instruments. Dennis just received the last remaining track a few hours ago. He actually got a sneak preview, without my demo vocals, already last weekend when we met for some listening sessions, food and drinks together with the closest DMM people.
Over the last several months I have been asked about the direction for the upcoming album. Now, for the first time, I have the possibility to answer that question with all the tracks ready. 5 words that describe it well would be; 'dark', 'heavy', 'powerful', 'catchy' and 'unique'.
We have been through a few different eras of the band. I feel that the new material sums up everything Evil Masquerade stands for and do it better than ever before. It's to the bone of what really matters. I can't wait to get started with the recordings. We will try to document some of it and share it here with you. There will be a few breaks in the work because I will be out touring, but I have a feeling this will actually benefit the whole process. It will secure that I don't get swallowed whole by the rather massive work-load and can maintain a good overview of the production. Needless to say, I will be busy for the next several months.
I'm also brainstorming on a couple of album related ideas that possibly might include… you. Let's see how it pans out. Keep your eye on the blog for more info to come.
In the meantime, please feel free to let us know if there's something specific you would like to see from the production work. Who knows, it might happen.