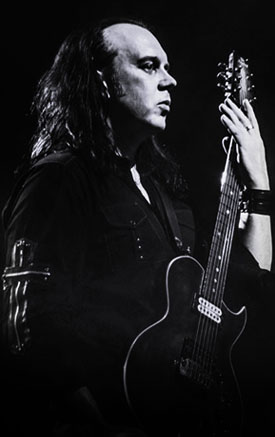 ---
by Henrik Flyman
---
ANDREAS TOPHØJ ON VIOLIN
I just stumbled on a video on YouTube that gave me the idea for this post. Let me introduce you to the violin player Andreas Tophøj who some Evil Masquerade fans might be familiar with in connection to our latest studio album 'The Digital Crucifix'.
Here he plays with us on the songs 'Like Voodoo', 'Buying Salvation' and 'Anywhere the Wind Blows'. He was a new acquaintance to me back in November 2013 when we recorded the strings for the album. In fact, he wasn't the violinist we had first asked to record with us. But it turned out, on the day of the recording, that the original guy had forgotten all about it and was in Canada for another gig. So we got the number to Andreas from a friend of a friend of his. When we reached him on the phone he was amazingly enough right outside the building we were recording in, having a hot dog. Destiny? He finished his meal and joined us only minutes after the call.

It's always a pleasure working with talented people and he definitely belongs in the category. One glance at the sheet music and then he played it all by heart. Needless to say, since the recordings were done in no time, we had a few extra beers afterwards to use scheduled time wisely.
Andreas of course has lots of stuff going on. The video here below is just one of many examples. Together with accordionist Rune Barslund they were awarded "Track of the Year" at the Danish Music Awards (Folk) 2012 for the song 'The Danish Immigrant' (composed by Rune). Check it out and show them some support if you dig it. On Facebook you can find them here.
What do you think about the idea of incorporating orchestral instruments in metal?