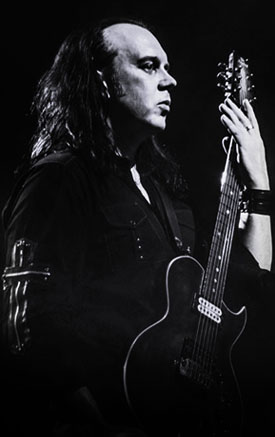 ---
---

---
by Henrik Flyman

---
SPOTIFY & MIXTAPES

Spotify, Spotify…. Spotify. To be completely honest, I struggled with rather mixed feelings for a while. On one hand a lot of artists claim it kills record sales, but on the other hand it's a great tool for checking out almost any band you can imagine. I guess we have been kind of fortunate when I hear other artists complain. Our troop of supporters is growing steady and so does the demand for physical Evil Masquerade albums. Therefore I will hereby decide that I am Spotify positive – simultaneously as I cross my fingers for it to improve in a few areas that are important for artists to want to stay on the platform. I think Spotify is a great concept, but it's crucial with a complete music library for its survival.
Now, since I am positive to Spotify, let's have a closer look. And especially at the playlists. Remember the old days with cassette tapes? I enjoyed the creative fun of putting together mixtapes from my own record collection and records I borrowed from friends. This nugget of entertainment faded away as most cassette players died from old age, or were replaced with new technique, in the late 90's. Then the illegal MP3 era brought it back briefly for a few years. But still not the same thing. The huge offerings from an easy accessible iTunes made it much better. Then finally Spotify came around and made it perfect. It has never been easier to arrange playlists, share albums and songs than now. For a band such as Evil Masquerade this has proven to be quite important. We have noticed that our fans are very attentive when it comes to music. There's a genuine interest for what comes out of the speakers. And when someone finds a song they really dig it's often shared with a good friend who has a similar taste in music. This is by far the most common way new people are introduced to Evil Masquerade.
Therefore, if you want to support the band (additionally to visiting the webshop) we sincerely appreciate when you share Spotify- and YouTube links through your social network. It never gets old.
To add some extra value to our Spotify channel we have included a couple of playlists that you might find entertaining. In this post I would like to focus on the one called "Flyman Recommends". It is very much as the name suggests. I add songs to it frequently. The only criteria for a new addition to appear is that I really like the song. The genre is not important. I believe that people who enjoy Evil Masquerade are likely to find something of value here.