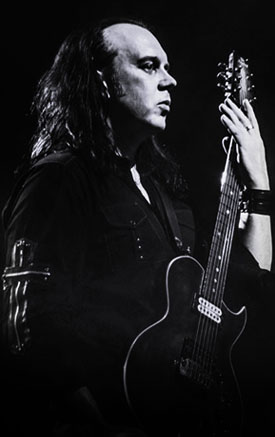 ---
by Henrik Flyman

---
THE SONGWRITING

I think it's about time to let you in a little bit on how the songs are coming together for our seventh studio album. As usual the most challenging part was to figure out where the masquerade should be heading. But a significant difference from earlier albums is that I did most of the thinking without an instrument. Actually, this is also how I have done large parts of the songwriting. Without an instrument. At this point there are five songs on the 100% certain list. Also noteworthy this time is that I haven't written that many songs that didn't make it to the album. Long-time followers know that this isn't how it normally goes down for me. Usually I write 2-3 times the songs we need before it feels right. I certainly haven't become less critical about what Evil Masquerade should accomplish. Quite on the contrary. But it seems like I'm in a good period where it's quite easy to aim and hit the bullseye right away. In fact, I'm hearing the pre-productions as I write this and must say that it feels extremely good. In my "humble" opinion these are some of the best songs I have ever written. I hope you will agree when you get the chance to hear the album. There should be no secret that there's a clear 80's vibe to the new stuff. It's probably the most "heavy metal" album we have done, but of course with our own Evil Masquerade twist and several unexpected turns.
Within soon we will reveal the complete tracklist and the title of the album. A few weeks more in the studio and we should be all set. By the way, I just noticed a funny thing when I was looking through our discography. Apparently we unknowingly started a trend on the 'Third Act' album. From then on, we only had title tracks on every second studio album. That would mean that our upcoming album should have a title track – which proves to be true since I have already written that one. So why not continue to be true to tradition and let the guessing game start right away? I will give you a hint; it's not a one-word-album-title.
Here's a snapshot of some of the tools I have been using (so far).