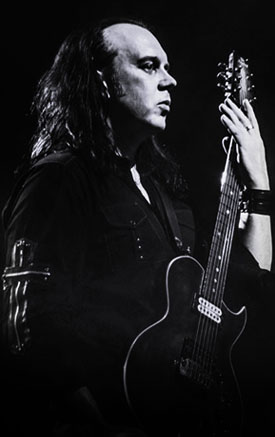 ---
by Henrik Flyman

---
TONY CAREY ON NRK
I just stumbled across some new cool music that I would like to share with you.
I'm pretty sure I'm not the only Tony Carey fan in Evil Masquerade circles. He caught my attention with his keyboards on the Rainbow 'Rising' album and I became a follower then and there. Needless to say, it was a great honor when he accepted my invitation to do a guest appearance on the 'Fade to Black' album.
But of course his discography and musical endeavors cover much more than that. Some people might not know, but Tony isn't 'just' a fine keyboard player – he can easily fill all the slots in a great rock band. Furthermore he's a really good songwriter and producer as well.
Just check out this song with his Planet P Project.
This song can be found on the album G.O.D.B.O.X. in his webshop. If you like it I highly recommend you to get a copy.
But back to what I initially intended to share. This was aired yesterday on Norwegian TV NRK. Tony co-wrote this great song with vocalist Trine Rein. Check it out.
Tony is a first class artist, a nice guy and fine musician.
If you want, you can show your support on his Facebook fan page.
For more info you can visit his Official Website.
If you have any Tony Carey related stuff to share, please do in the comments field here below.