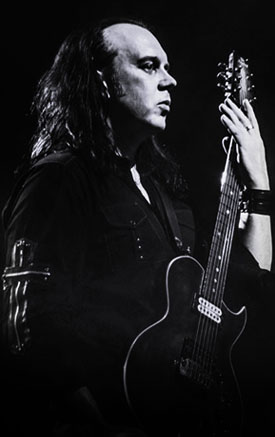 ---
by Henrik Flyman

---
UPCOMING ANNOUNCEMENTS

It's in the middle of the night and I've been dusting off a bunch of Evil Masquerade oldies to get them back into my fingers. Starting to sound pretty decent.
Now while taking a short break, enjoying a nice glass of Argentinian Malbec, I thought I'd give you an update on what the rest of the week has to offer.
On Thursday we announce who sings on the upcoming album. It's been interesting to follow all the speculations on social media – and it will definitely be interesting to do so after Thursday as well. It's a new chapter and the story continues.
On Saturday we will do our first band rehearsal in 2016. Up until now everything has evolved around the new album and hanging out in the studio. I'm really looking forward to cranking it up with the guys in a sweaty rehearsal room. Old and new tunes in a frenzy of devilish rock 'n' roll.
On Sunday we meet again, together with the film crew, to do the first video shoot for the new album. It's a song that I wrote back in 2005 that will finally be brought to life – 11 years later. I always loved this one but never found the right home for it, until now. Lyrically it's more up-to-date than ever. Really looking forward to sharing it with you.
Well, well… the Malbec is gone and the guitar doesn't play itself.
Cheers.
Save

Save