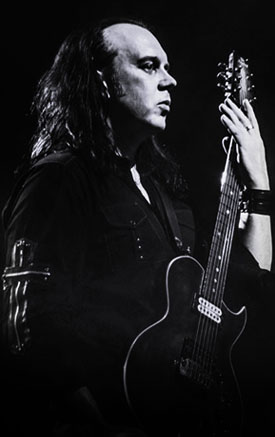 ---
by Henrik Flyman

---
WHAT MAKES A GUITARIST GREAT?
I often get questions about which guitarists had an impact on my playing, how often I practice, what gear I use and other guitar related topics. Of course it's flattering that some people find this interesting, but I'm not really sure how useful such information is for other guitarists (because I guess that's the main target group here?).
5 QUALITIES I APPRECIATE IN A GUITARIST ARE:
• Personal style
• Melody
• Passion
• Element of surprise
• Technique
A personal style is probably the most important thing. If someone sounds like a bunch of other players he is very easily replaced. Melody is king and without it I tend to filter the music away. I appreciate a few interesting notes far more than one thousand technically perfected machine-gun scales (not saying that fast well-synchronized stuff can't be highly entertaining). Passion makes all the difference in the world. People with a strong passion for what they do are interesting. It's as simple as that. A player that "feels" the music and means it from heart and soul always sounds more inspiring to listen to. If the player doesn't feel it, chances are very slim that the listener will. Really passionate players usually also come with the element of surprise since they don't play what the book tells them to. Great! A flawless technique of course adds an additional dimension to everything already mention, but it's not necessary for me to still enjoy it.
What's a great guitarist for you? Who are your favorite players?